I love a good adventure — "About Me" just doesn't seem to cut it. Below are a few random deets about my person.
USMC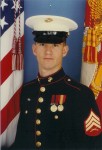 I spent six years in the U.S. Marine Corps, where I enjoyed an adventure more or less after every meal. You remember those commercials that said "We do more before 9am than most people do all day"? Yeah, I sleep in now. I was trained as an infantry Sergeant, served with 7th Marines, then moved into intelligence work where I served as a counter-terrorism specialist. I also spent two years on White House duty under Bush 1 and Clinton, marched in Clinton's inauguration parade, and was selected for the Silent Drill Team. Spent my 27th birthday in a coconut tree on the Philippine island of Panay.
Train Jumping
I spent two years riding the rails across the U.S. for my graduate thesis on the unique spatio-temporal perceptions shared by transient communities, and the metaphors they've developed to reflect their world view. I also enjoyed following the Grateful Dead now and then — lived in a VW bus and everything — and spent much of my late teens on endless roadtrips wearing out motorcycles, busking for change, and hustling pool. Read a little too much Mailer and Pirsig, but still, good times.
Ultimate Frisbee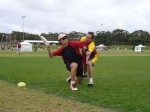 This is me playing for Canada at the 2006 World Ultimate Frisbee and Guts Championships in Perth. I've played in ultimate national championships in Australia, the US, and Canada, and played for the Canadian Guts team in the 2008 World Championships in Vancouver.
Academics
I graduated from Columbia University in 2000, where I was a Vidda scholar, president of the Student Council and the Writers Club, served on the editorial boards of three campus literary pubs, wrote a column for the school newspaper, and was a member of SigEp. My undergraduate work focused on the intersection of anthropology and literature, culminating in a thesis comparing the universal patterns inherent in rites de passage with the heroic idiom in western narrativity. Yeah, I'm a wild man.
My graduate work at the University of Chicago continued this thread, expanding into cultural criticism and metaphor theory, which are now my central academic pursuits. I completed my Masters at Chicago, and moved on to the University of Virginia for my PhD in anthropology. Not such a good move, career-wise. Thank god I can write. I now teach cultural criticism, satire, and magazine journalism at the University of British Columbia.